What is OAuth? And Why Do I Care?
What is OAuth?
OAuth is an authentication method where you (the user) approve applications (like TwitterGadget) to act on your behalf (i.e. post to Twitter) without sharing your password. This allows you greater control of who can and cannot access your Twitter data. It is also safer because you never have to share your password with third party applications.
Do I have to use OAuth to use TwitterGadget?
Yes. As of August 31st, 2010, all third party apps (including TwitterGadget) will be
required
to use OAuth instead of the usual ScreenName/Password combination.
How do I use OAuth to sign in?
Instead of signing into TwitterGadget with your ScreenName and Password, you will do the following:
Click the button labeled 'Sign in with Twitter'. Check '
Remember Me
' if you wish to remain signed in on future visits after closing your browser (do not check '
Remember me
' if you are on a public computer, such as at school, library, etc,...)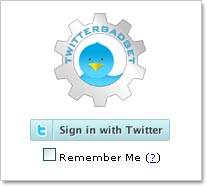 From here you will be redirectd to sign into your actual Twitter Account (at twitter.com) and asked to be signed in.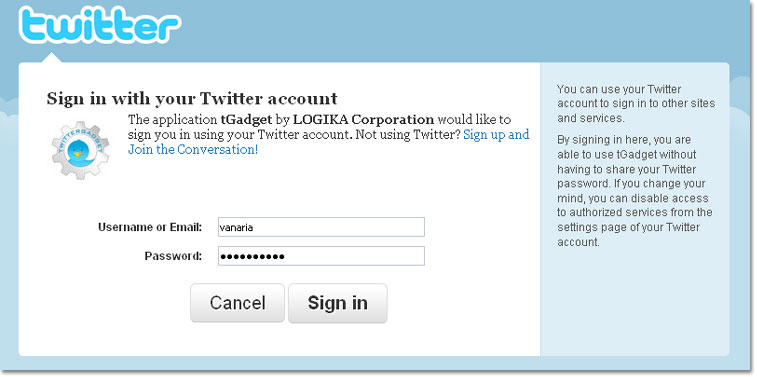 You will be asked to grant permission to TwitterGadget to access your data.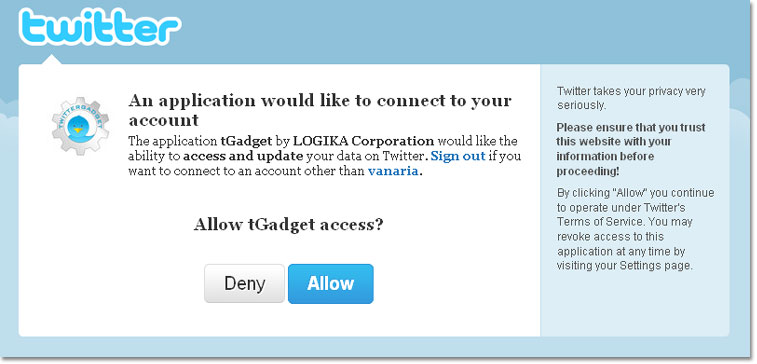 After clicking '
Allow
', you will be redirected back to TwitterGadget.

From here, you will automatically be signed into TwitterGadget.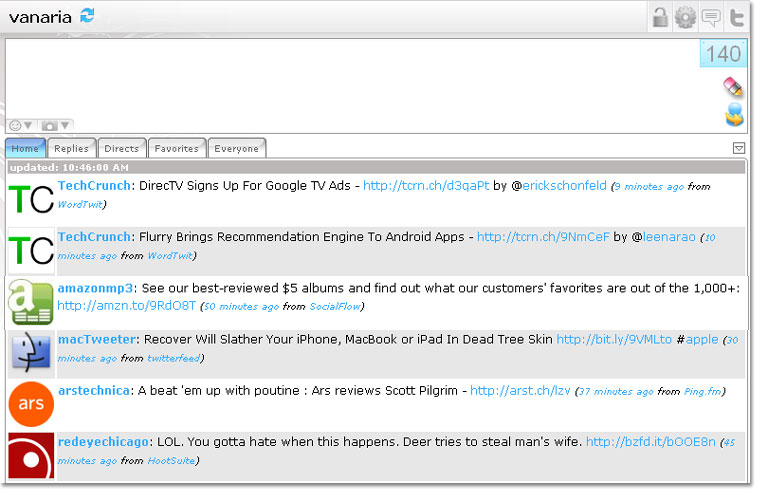 Do I Have To Do This Every Time I Sign In?
No. Once you grant permission to TwitterGadget to access your data, you will not be asked again unless you revoke access to TwitterGadget (from your Twitter.com account).
How Do I Sign In as a Different User (Multiple Accounts)?
TwitterGadget does not currently support multiple accounts. In order to sign into a different account, you will first need to sign out of your accounts at both twitter.com and twittergadget.com. You will then be given an opportunity to sign in as a different user.
Please view our
OAuth Demonstration Video
for additional details.
Where Can I Get More Information?
Twitter's announcement of OAuth
on their Twitter Blog
.
Nice explanation of
how Oauth works
.
Technical Details of Oauth at
Oauth.net
.
Copyright © 2018 Logika Corporation®. All rights reserved.